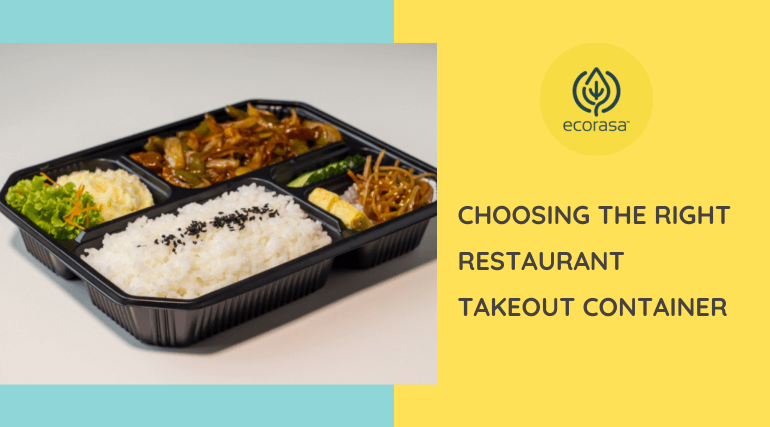 Choosing the Right Restaurant Takeout Container
Takeout containers are a critical component of your restaurant, especially since more people nowadays prefer home delivery over dine-in. Numerous businesses are broadening their offerings with online ordering, pickup, and delivery services.
What are the biggest concerns with takeout containers?
Leaks: The last thing you want is for the customer's meal to spill all over their car or lap. Liquids (such as soups and condiments) should be packaged separately in tightly sealed containers to avoid spills. Also, consider the thickness and consistency of the disposable product as liquids in a dish can soak through the container over time.
Ensure that the quality of your food is preserved: You spend a lot of time as a chef creating memorable meals for your clients. However, with the introduction of online ordering and distribution, chefs must now realize that a customer's first bite could be several miles away from where the food is cooked. By choosing the appropriate packaging for your menu items, you will ensure that the food you cook can survive the ride.
Eco-Friendly Materials: Going green is a lifestyle that several companies are adopting—and consumers are noticing. Show your consumers that you care about the environment by using eco-friendly takeout containers like:

Compostable: Compostable materials, such as sugarcane, bamboo, most eco-friendly plastics, etc., can be composted and turned into the soil in a commercial composting facility. When used and composted properly, compostable goods have the least negative effects on the environment.
Recyclable: Paper, recyclable aluminum, bioplastics, and other recyclable materials can be recycled in most municipalities. Double-check with your nearest recycling center to see what products are appropriate.
Post-Consumer Recycled Material: Post-consumer recycled materials use fewer virgin resources and cause less damage to the climate, but only a few municipalities allow them in their recycling centers.
Types of Takeout Containers
Clamshell: The classic clamshell container is a consumer favorite for a range of foods like sandwiches, pasta, and more. These containers might need to be customized for different foods to ensure that they can hold up the varying liquid portions of diverse dishes.
Bio-Box/ Package: These folded boxes are another flexible choice for storing several types of food and restaurant leftovers. These also include new compostable plastic liners to help avoid spills.
Round Foil Takeout: These sturdy containers are made of recyclable aluminum and plastic and will not leak from their base.
Soup Cup: These containers are perfectly suitable for both cold and hot foods, especially soup and other liquid foods.
Specialty Containers: Certain foods, like sushi and pizza, require customized containers to maintain their flavor and texture while traveling. So, they need specialized containers along with sealed condiment cups containing extra toppings and sauces.
Ecorasa provides various eco-friendly takeout containers, such as clamshells, eco-friendly plastic takeout boxes, and eco-friendly plastic takeout bowls. All our products are microwave-safe, keep food fresh, secure close cover, and a stackable design. Contact us for more details.