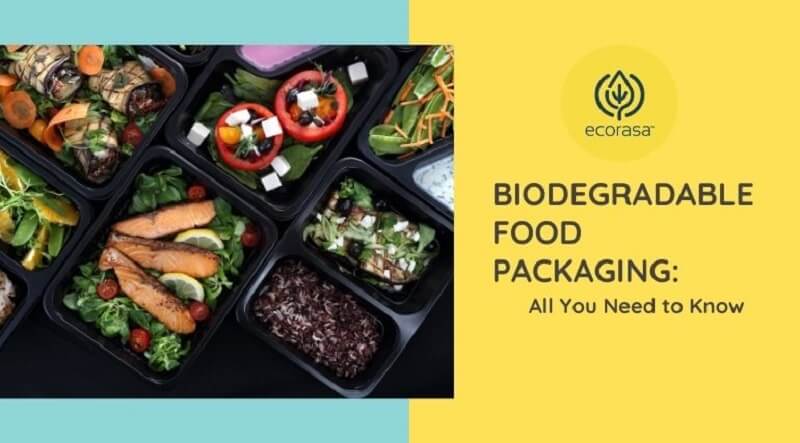 Biodegradable Food Packaging: All You Need to Know
While plastic is the most widely used material for packaging, it often has an adverse environmental impact. Biodegradable, non-plastic packaging and organic, eco-friendly plastic products have started to emerge as alternatives to traditional plastic packaging in recent years.
What is Biodegradable Food Packaging?
Biodegradable packaging is made using biopolymers, which are chemicals like cellulose and proteins that are also in living organisms. This ensures that they can be safely consumed, rapidly degraded, and often produced from waste plant products.
Also read: The 5 Key Benefits Of Eco-Friendly Packaging
How Does Biodegradable Food Packaging Help the Environment?
Biodegradable packaging is far more environmentally friendly than traditional plastic packaging. Some factors that make biodegradable packaging materials a more eco-friendly option are:
Versatile and flexible:

Since these items could be reused and repurposed, it is beneficial and cost-effective for many industries that involve packaging. The adaptable nature of the packaging allows it to be used for packing items such as food, electronic items, etc.

No harmful plastics:

Packing products with traditional plastic causes environmental pollution, global warming, litter around public places, and causes health problems when used with food. Using biodegradable products reduces the usage of petrochemical products and harmful plastics.

Reduces your carbon footprint:

Biodegradable packaging uses recycled waste, reducing resource consumption.

Easy disposal:

When disposed of, biodegradable packaging can be used as compost or recycled.
Also read: Sustainable Food Packaging: All You Need to Know
Benefits of Biodegradable Food Packaging for Businesses
Biodegradable plastic food packaging, industrial packaging, and non-food eco-friendly packaging are beneficial for businesses because of the following factors:
Improves your brand image:

Biodegradable packaging creates a great impression of your company as this showcases your sense of responsibility towards the environment. 78% of customers (mostly young adults) react more positively towards products with biodegradable packaging.

Disposability:

Consumers prefer easily disposable biodegradable packaging that can be recycled or composted. For example, shredding is an effective and eco-friendly method to dispose of biodegradable packaging items.

Lower production costs:

Lower production costs: Biodegradeable packaging generally uses fewer resources to manufacture lighter and stronger packaging materials, thereby reducing overall production costs. Also, the packaging is often specially coated with certain materials to improve their durability, enabling them to be reused. A business can recycle packaging by diverting refuse from landfills, thus cutting down on the costs of new materials.

Future-oriented: In addition to reduced costs, less carbon emission, and increased consumer convenience, selling eco-friendly products and using biodegradable packaging instead of plastic packaging would also cause less global warming and littering.
Want to build a sustainable and responsible ecosystem for the environment and society? Contact us at Ecorasa to solve your packaging problems and get safer, eco-friendly packaging for your products. Our product range includes biodegradable clamshell containers, disposable food trays, eco-friendly takeout boxes, and much more.