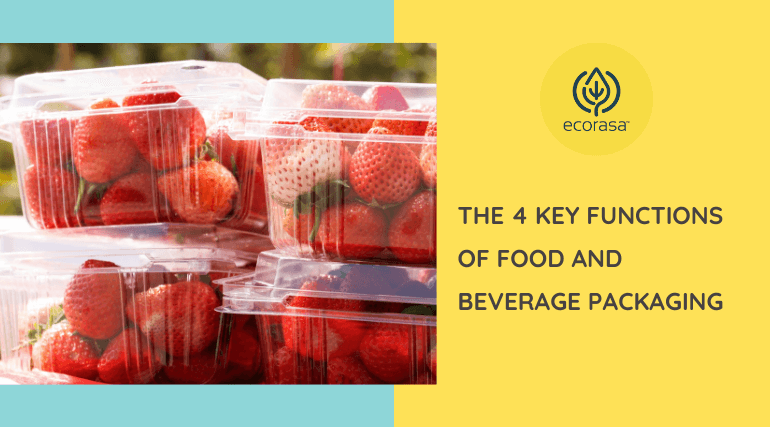 The 4 Key Functions of Food and Beverage Packaging
When you launch a new product, how you pack it is an integral part of its successful launch. Several trends greatly influence important decisions on how to package products to and appeal to consumers. Here is a brief explanation of the fundamental role of food and beverage packaging in the food industry.
The Role of Food and Beverage Packaging
The four primary functions of packaging are product protection, product safety, product freshness, and brand identity. Let us look into each of these in detail.
Product Protection
With product protection, we want to keep the food safe during handling, transit, and distribution. Keep in mind that such high-quality product protection throughout the supply chain requires keeping a close eye on primary packaging, such as aluminum, glass, or plastic, that will be used to pack the individual products. Additionally, secondary packaging materials like a secondary wrap or box also should be selected carefully as these have to hold several unique products for shipment.
Also read: Comparing Biodegradable vs. Compostable Plastics and Their Uses
Product Safety
For product safety, we want to reduce or eliminate food recalls and hazards and help with traceability. Product safety is a crucial aspect of food and beverage packaging. From peanut butter to juice, whatever your product is, a product recall will certainly demolish a brand's credibility, reduce its sales, and even result in a lawsuit.
Product safety also checks for food product contamination. Even though using food-grade materials is compulsory for packaging, inks and coatings used on the packaging can still contaminate the food in some instances. Many packaging processes and technologies are developed to enhance food safety measurements.
Another aspect of food packaging is its traceability. Whenever you purchase a packed food item, you can see several labeling and FDA regulations on the packaging, like an ingredient list, a batch ID, date of manufacture, and possible effects of consuming that item. This information is included in the packaging to enable the product to be traced easily and discarded if it has surpassed its expiry date.
Also read: 5 Things to Look for When You Buy Food Packaging Supplies
Product Freshness
Keeping a product fresh until it reaches your consumer is also very important. It has been seen that good packaging can keep your product fresh for longer times. It can also maintain its taste, appearance, shelf life, and quality. Remember that no matter how good your product's recipe is, you will undoubtedly lose a loyal consumer if it does not taste fresh. For example, some foods and beverages need a barrier such as air, flavor, moisture, etc., to make them stay fresh longer. Similarly, the wraps used to package meat products must have breathability.
Also read: Biodegradable Food Packaging: All You Need to Know
Brand Identity
Packaging is now an indispensable part of the marketing mix now, and a good package design will undoubtedly attract the consumer's attention. Using the proper shape, size, colors, and materials in your packaging will certainly improve your consumer's experience with your product which, eventually, will help to strengthen your brand identity. Since eco-friendly packaging reduces the amount of packaging materials needed to ship goods, it reduces the cost incurred while shipping the goods from the production unit to the warehouse and customers.
Do not forget that food and beverage packaging is your direct interface with your consumer. Therefore, it is best not to compromise on the quality. You can contact us if you are looking to enter into the food business or need to provide high-quality and eco-friendly food packaging solutions for your product. Our product range includes clamshell lunchboxes, eco-friendly plastic food boxes, take-out bowls, and much more. All our sustainable packaging products are created to keep the food fresh and safe for long hours. Contact us for more information!